SAN JOSE, Calif., Nov. 4, 2015 -- EHang, today released the newest version of its popular drone, The Ghost 2.0. The Ghost drone, which will be available for direct purchase via the EHang website, for pre-order on Amazon, and soon at Fry's and Hobbico stores, marks a significant step forward in making drone flight an accessible reality for everyday consumers. By marrying approachability with top-line design and engineering, the Ghost 2.0 makes drones a fun and natural way to take to the skies.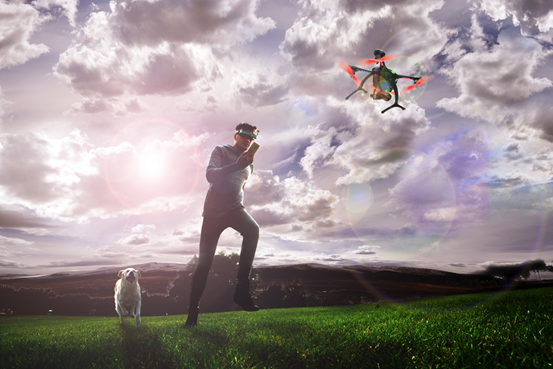 The new drone includes several major new features, including:
Tilt Control - The Ghost 2.0's proprietary Tilt Control enables consumers to steer with their phone instead of complex RCA controls or the challenging maneuverability of "point and tap" app navigation. Drone pilots operate the drone through EHang's mobile app, which is compatible with both Apple and Android devices.

VR Goggles - To create a truly immersive flight experience, the goggles let users see directly out of the "eyes" of the drone in real time, allowing pilots to take flight in the "cockpit" of the Ghost 2.0. When combined with Tilt Control, users have precise control the drone without the bulk of additional hardware thanks to the goggles' built-in sensitivity to movement: when you turn your head, the camera turns as well.
Seamless filming - The Ghost's app integration enables its user to control both the drone and its camera simultaneously, removing the hassle of managing both the gimbal and drone separately by two people.

New, streamlined design - The Ghost 2.0's interior specs marry approachability with top-line design and engineering, making it a must-have for first-time fliers and drone enthusiasts alike.
Full-year replacement policy - The Ghost 2.0 was designed with safety and durability in mind. But when accidents happen, EHang's 12-month warranty guarantee ensures consumers will be back in the air as quickly as possible.
"With our first two iterations of the Ghost Drone, we were able to build a strong foundation of both engineering and fans to help shape our vision for the Ghost 2.0," said Derrick Xiong, co-founder and CMO of EHang. "Our mission from the beginning has been to bring drones to everyone, and this brings us closer to that reality. We're just scratching the surface of what drones can do and will continue pushing the envelope and innovating to fully deliver on our vision."
Xiong went on to explain that Ghost Drone 2.0 also opens up the world of aerial filming to fliers of all levels. "With the combination of avatar tilt mode and EHang Virtual Reality Goggle, even amateurs can master advanced aerial filming techniques," he said. "That's because you can use your intuition instead of learning to use a complicated RC transmitter. 2.0 also makes it possible for one person to act as both pilot and cameraman -- a cutting-edge move for the market."
The Ghost 2.0 will initially be sold on the EHang site, available for pre-order on Amazon, and will soon hit the shelves at Fry's and Hobbico stores. The company will offer a $100 discount to the first 100 customers to buy the new version, and will also roll out a trade-up program for owners of the first Ghost drone. For more information, visit www.ehang.com.
Launch Video: www.ehang.com/index.html
Product demo video: https://www.youtube.com/watch?v=1hkQos9kayw
About EHang
EHang, founded in 2014, is a Chinese aerial technology company with offices in California, Beijing, and Guangzhou. EHang's mission is to help shape the way we connect with the sky. With $10 million raised in its Series A round, and$42 million in its series B, EHang is already on the fast-track to mass market success. Along with a nearly 200 person team and executives from Microsoft and Lenovo, the company has framed itself as the dark horse contender in the competitive drone market that they're seeking to overtake. EHang makes the world's most easily-flown UAV, innovating the way consumers harness UAV technology. With users in over 70 countries, EHang's products open the skies to both new and seasoned fliers around the world. Visit http://www.ehang.com for more information.